Back
Apple stock falls over federal judge's decision
14 September 2021
Articles
Apple stock (AAPL:Nasdaq) has been on a winning streak in the last few months rising 27.6% since June 2021 to an all-time high of nearly $157 per share.
Last Friday, however, the stock fell more than 3% on higher-than-average volume over a U.S. federal judge's decision that seems like a major setback for AAPL. The judge's decision was part of a ruling in a case between AAPL and Epic Games, the maker of the popular game Fortnite, which sued Apple over its App Store policies.
The ruling gives companies a way to avoid handing Apple a cut of their app sales, potentially upending a $100 billion in App Store sales.
Was Friday's market action just one bad day? Or is it the start of a major downtrend? And if AAPL stock continues to drop, will it pull the S&P500 down with it?
First, Apple is scheduled to host a "California Streaming" event today Tuesday September 14th. Like last year's event, this will be held virtually and is expected to focus on the new iPhone 13 and Apple Watch 7 products. If the event is a big hit on Wall Street, we may see bullish momentum resume and AAPL stock price may rise to record highs again.
Second, the much-awaited Consumer Price Index (CPI) for August is due to be released today. The consensus estimate, according to Briefing.com, is for 0.4% headline monthly growth, and core growth of 0.3%. Anything above the 0.4% headline or 0.3% core, may once again ignite inflation concerns, raising the possibility that the Fed will potentially have to get more hawkish.
This may add to the bearish pressure on stock markets we saw last week and will send both the S&P500 index and AAPL stock lower.
Technically speaking, AAPL stock is now sitting on a major support level and on the key 50-period moving average around $149 (4-hour chart). A sustained move below this level may send the stock price lower to the 200-period moving average in the $130's. Otherwise, the main trend will remain bullish as long as the price stays above the 4H 50-MA.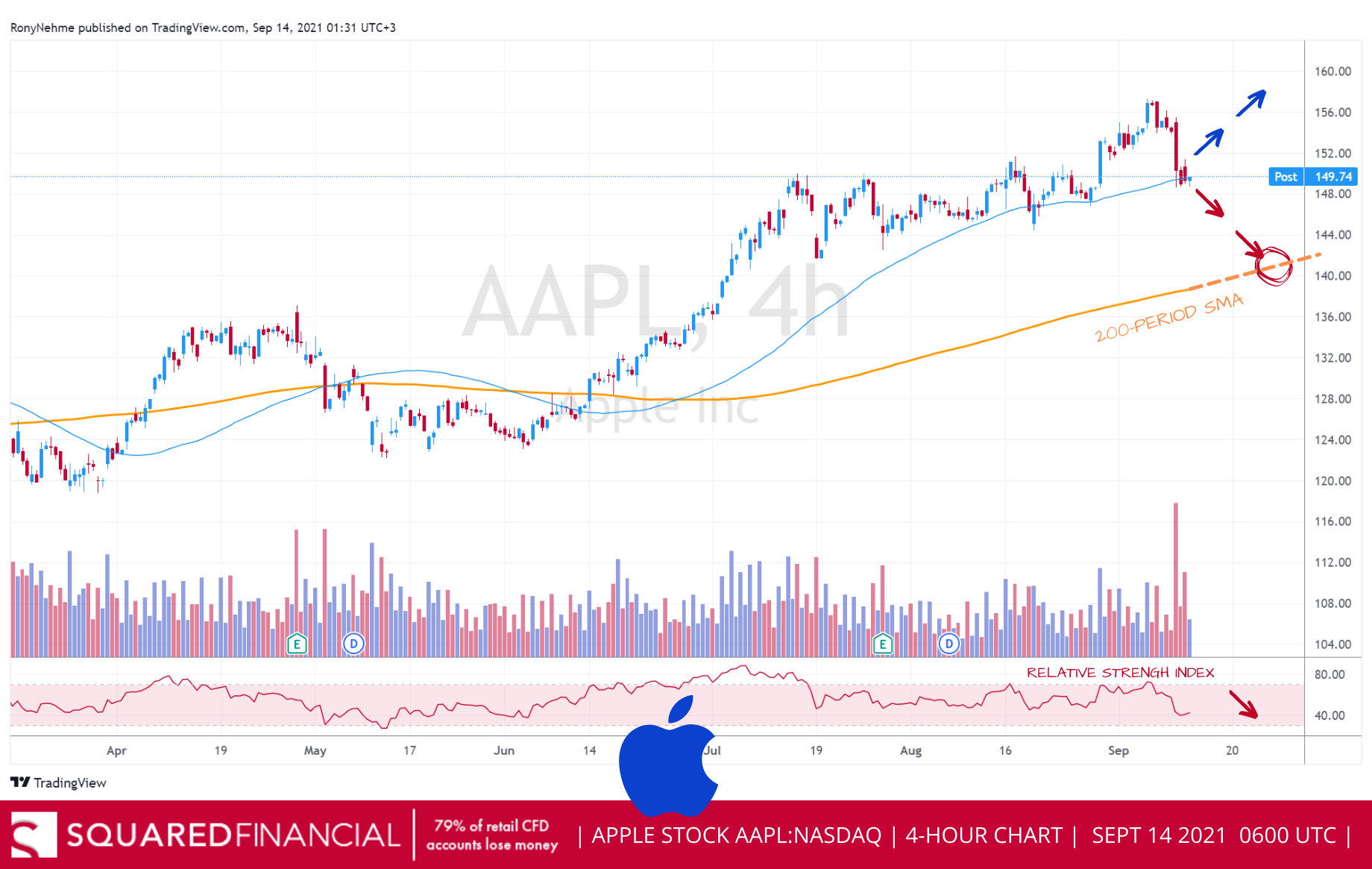 ---
Disclaimer: This information is only for educational purposes and is not an investment recommendation. All examples and analysis used herein are of the personal opinions of SquaredFinancial's Research Partners. All examples and analysis are intended for these purposes and should not be considered as specific investment advice. The risk of loss in trading securities, options, futures, and forex can be substantial. Customers must consider all relevant risk factors including their own personal financial situation before trading.